Hong Kong International Airport
---
Creating
a gourmet paradise
From Wolfgang Puck's first location in Hong Kong to a pair of Michelin-starred Cantonese and Shanghai restaurants, five spectacular openings have added diversity and distinctiveness to the food & beverage offer at Hong Kong International Airport.

Jason Holland

reports.
Hong Kong International Airport is one of Asia's most commercially progressive hubs, and is in the midst of implementing a hugely ambitious overhaul of its F&B offer.
The latest developments add dynamism, variety and vibrancy, as five new restaurants offer cuisines from around the globe. First is the Lagardère Travel Retail-operated Wolfgang Puck Kitchen, which has opened in the arrivals zone, taking over the previous McDonald's unit. A recent media tasting and opening event was highlighted by an appearance by the chef, author and media celebrity Wolfgang Puck himself.
The restaurant offers a California-inspired interpretation of global comfort fare using high-quality seasonal ingredients. "Delicious, efficient and affordable, the fast-casual setting of Wolfgang Puck Kitchen is designed for the discerning traveller on the go," said Lagardère Travel Retail.
Wolfgang Puck explained that he had "always been intrigued by the cultural and culinary diversity of Hong Kong". He said: "It is a very special city and I am excited about opening my restaurant here."
Airport Authority Hong Kong General Manager Retail, Portfolio Retail & Advertising Alby Tsang said he was "thrilled to have the very first Wolfgang Puck Kitchen Restaurant landing in Hong Kong International Airport, as they reflect one of the best examples of restaurant hospitality".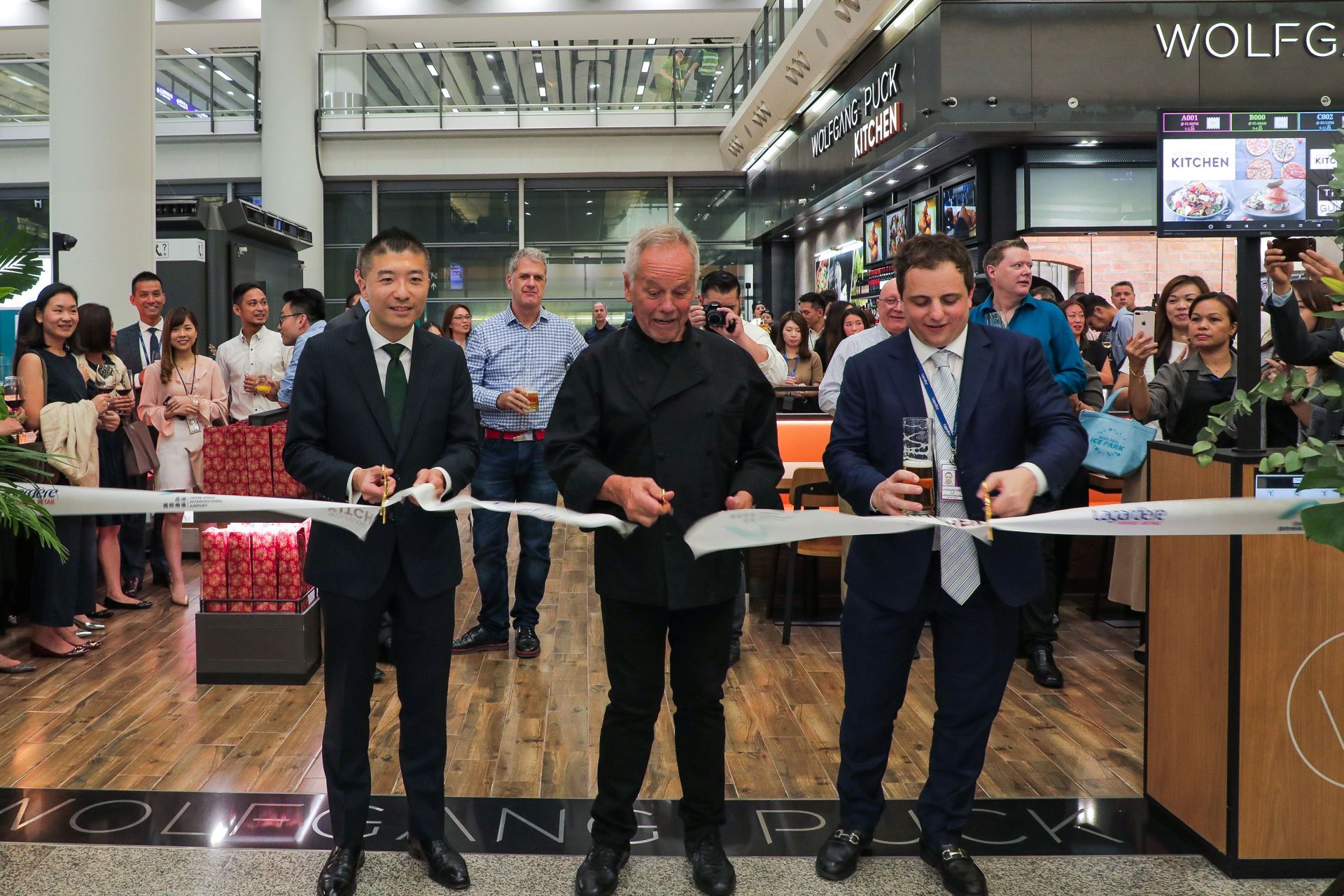 Wolfgang Puck has built a brand that encompasses three companies: Wolfgang Puck Fine Dining Group, Wolfgang Puck Catering, and Wolfgang Puck Worldwide. He is pictured at the launch of his Hong Kong International Airport debut (centre) with Airport Authority General Manager, Retail Portfolio, Retail & Advertising Alby Tsang (left) and Lagardère Travel Retail Chief Executive Officer (North Asia) Eudes Fabre.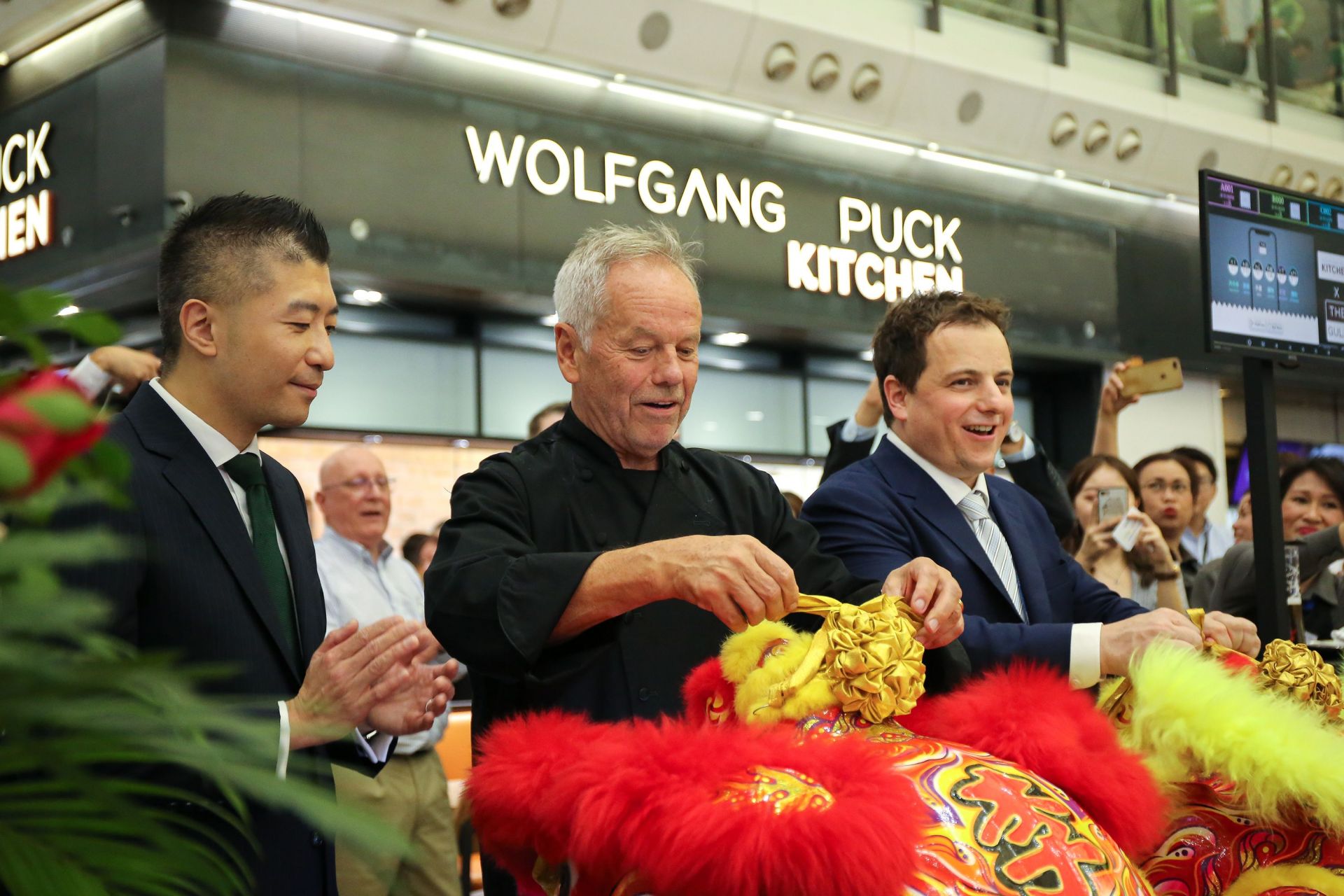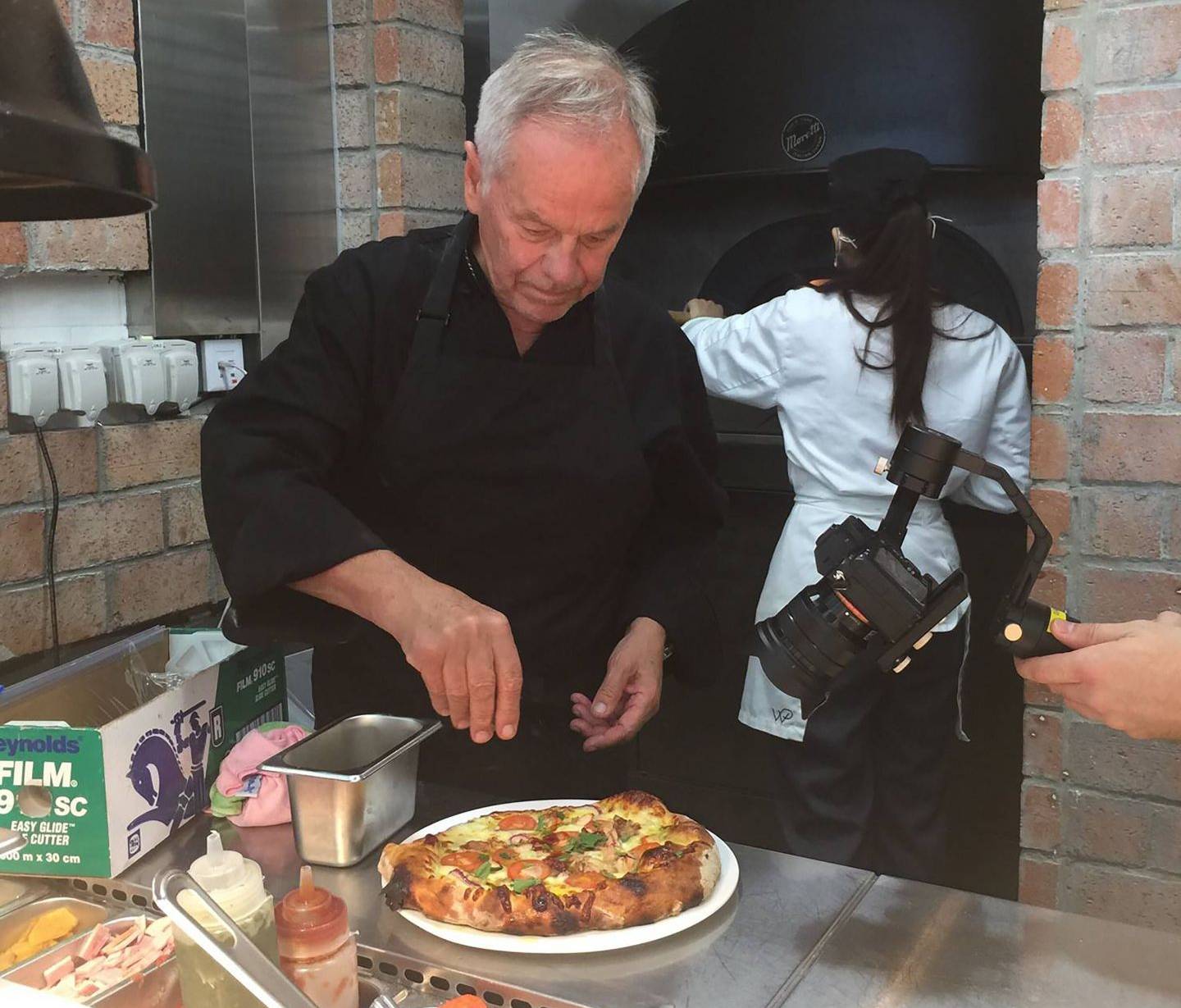 SSP has opened popular Michelin-starred Shanghai concept Jardin de Jade on Level 7 of the East Hall, part of the previous Cafe Deco space (with the remaining area converted for retail). The restaurant offers an exclusive food pairing menu at Hong Kong International with views of the airport tarmac.
Digital LCD screens display a range of iconic Hong Kong backgrounds, while interactive smart tables include an ordering system and games for families to play while waiting for their food to arrive. Travellers with shorter dwell times will also feel welcome, according to SSP, with small plates and snacks for casual dining and a modern bar serving fine wines, craft beers and signature cocktails.
"We are delighted to be working with Jardin de Jade to give passengers at Hong Kong International Airport a real taste of regional Chinese cuisine," said SSP Asia Pacific CEO Mark Angela. "With cooking and interior design that combine the best elements of both the modern and traditional, the new Jardin de Jade bistro will provide a truly memorable dining destination for travellers."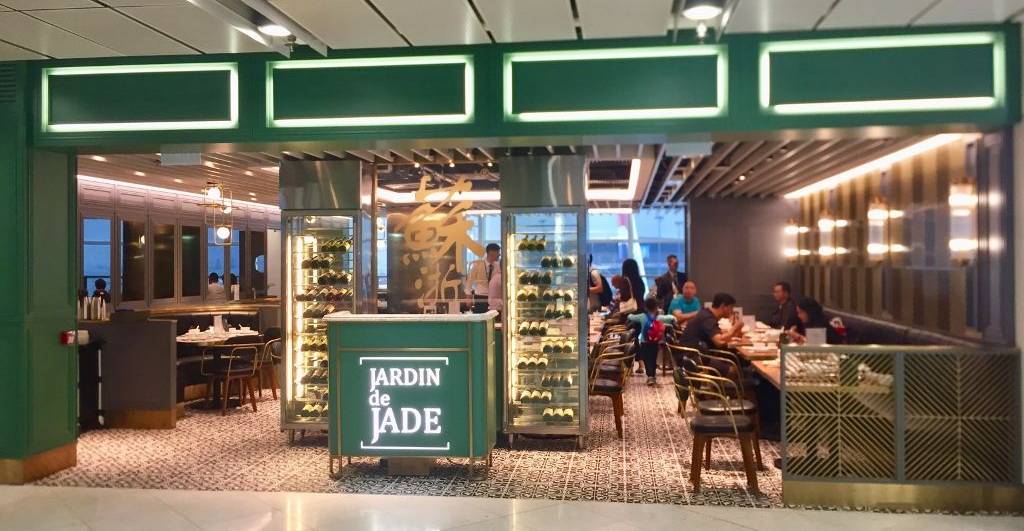 Jardin de Jade offers authentic and innovative dishes that embody the essence of regional Chinese cooking. The airport menu features Chinese specialities with an emphasis on Shanghainese cuisine, appealing to both local and international tastes. Dishes include classic favourites such as drunken chicken and vegetable abalone, as well as more extravagant specialities such as Shrimp Ball with Salted Egg Yolk and House Special Braised Pork.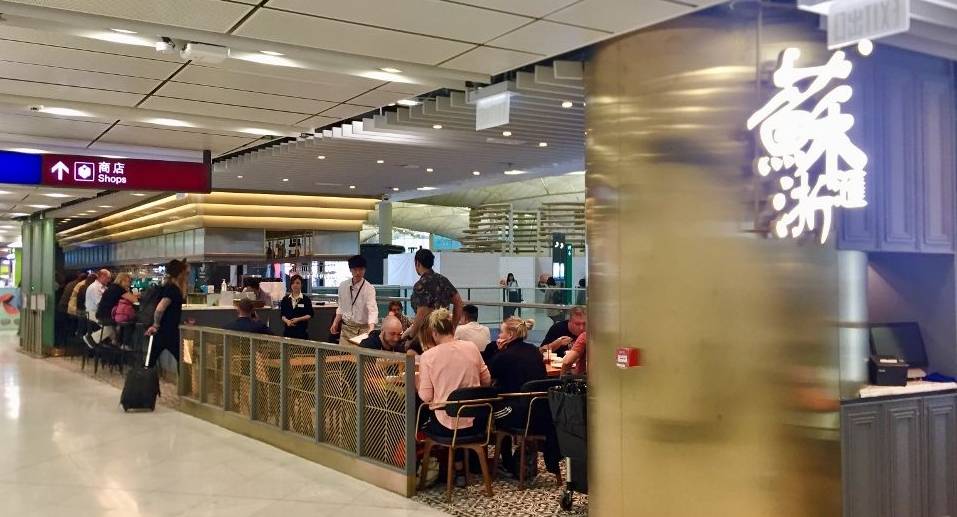 The other three openings are new kiosks in the renovated East Hall Food Court. JIA Group's Michelin-starred Cantonese restaurant Duddell's offers quality Cantonese comfort food within a casual setting. The menu features Duddell's signature dim sum as well as twists on Cantonese favourites, all freshly steamed, roasted and stir-fried on site.
There is also a grab-and-go option, while a new roast goose gift box gives travellers the chance to pick up a Hong Kong culinary souvenir. Pre-marinated for two days using "only the finest" geese from the city of Foshan, the gift box comes in travel-friendly packaging that preserves flavours and freshness through transit.
"We are delighted to be introducing a new Duddell's to Hong Kong International Airport – an important meeting point for travellers from all across the globe," said JIA Group CEO and Duddell's Co-Founder Yenn Wong. "This latest iteration will reveal to the public a more casual side of the brand, but one that is just as refined and reflective of all that has made Duddell's a standout venue."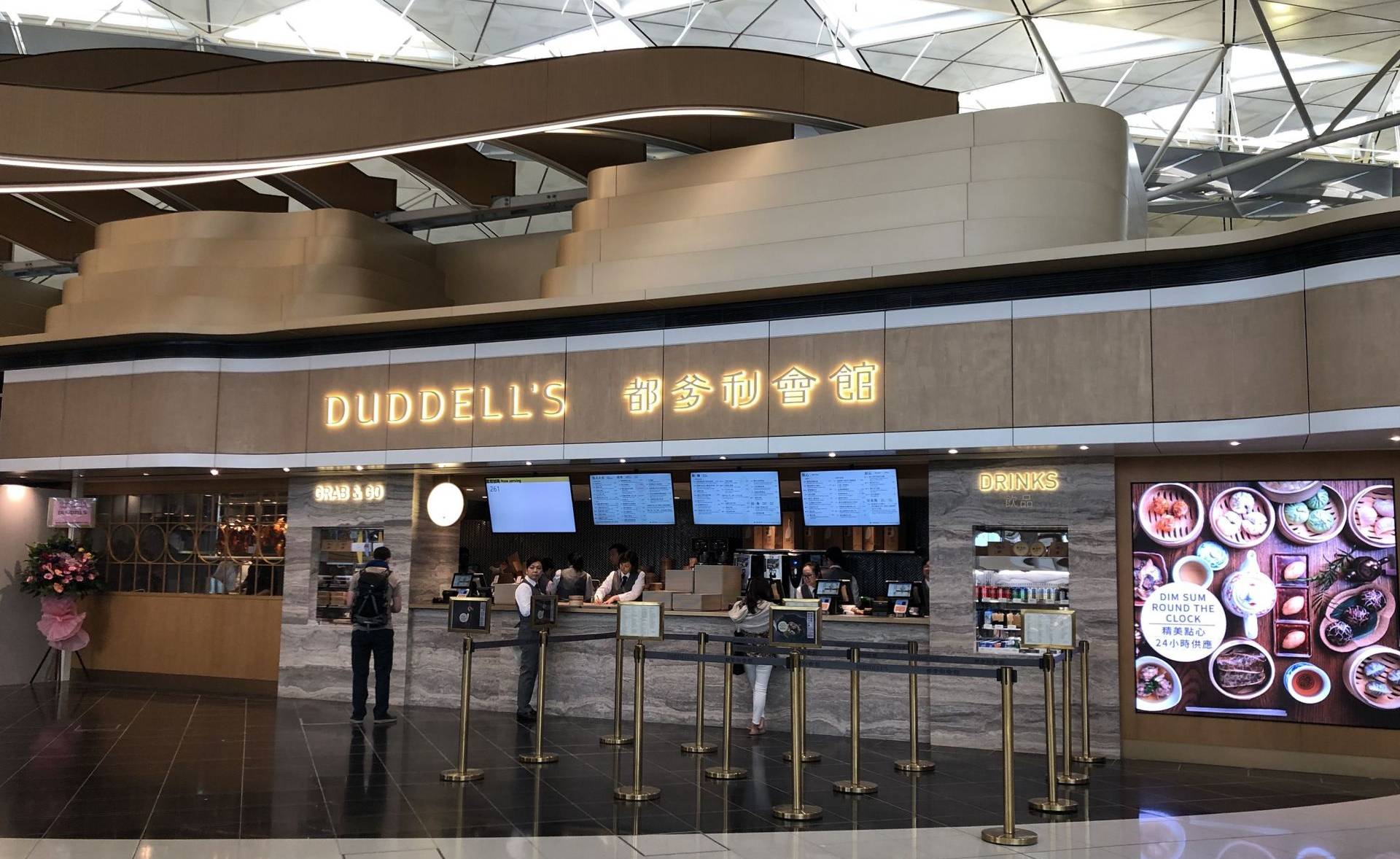 Duddell's offers a curated variety of drinks, including premium cold brew tea and bottled kombucha — both rarities at the airport — along with freshly prepared Hong Kong classic milk tea, Yuan Yang (coffee and tea blended with milk), cold-pressed juices and beer
Celebrity chef Gordon Ramsay's Plane Food To Go has also opened in the food court, serving quality British cuisine that has been created exclusively for the airport. It is joined by Sinsa Eat Korean Kitchen, which offers Korean dishes to-go.
Speaking at the Airport Food & Beverage (FAB) Conference & Awards in Dallas in June, Airport Authority Hong Kong's Alby Tsang noted that with Hong Kong being regarded as a "world-renowned gourmet paradise", the airport must strive to be seen in the way.
The new openings are an important step in the process of achieving that goal. "It is important to think outside the box to create excitement for passengers," he concluded. "Our ultimate mission is to make sure passengers are never 'hangry' [a portmanteau – or combination – of the words hungry and angry]." With the strong and growing range of options, it is unlikely any traveller will feel that way.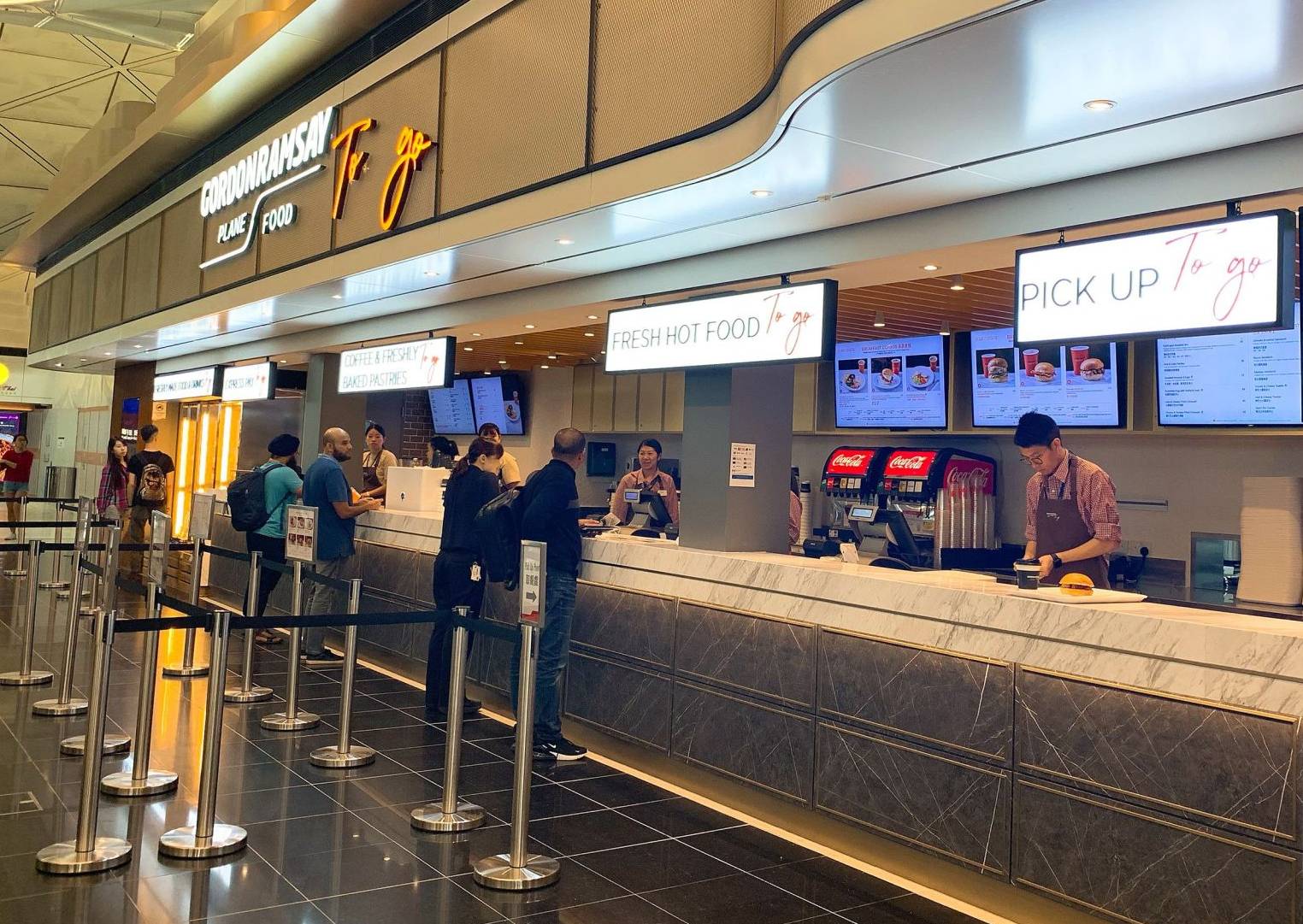 Gordon Ramsay Plane Food To Go (above) and Sinsa Eat Korean Kitchen (below) add to the diverse range of options at the East Hall Food Court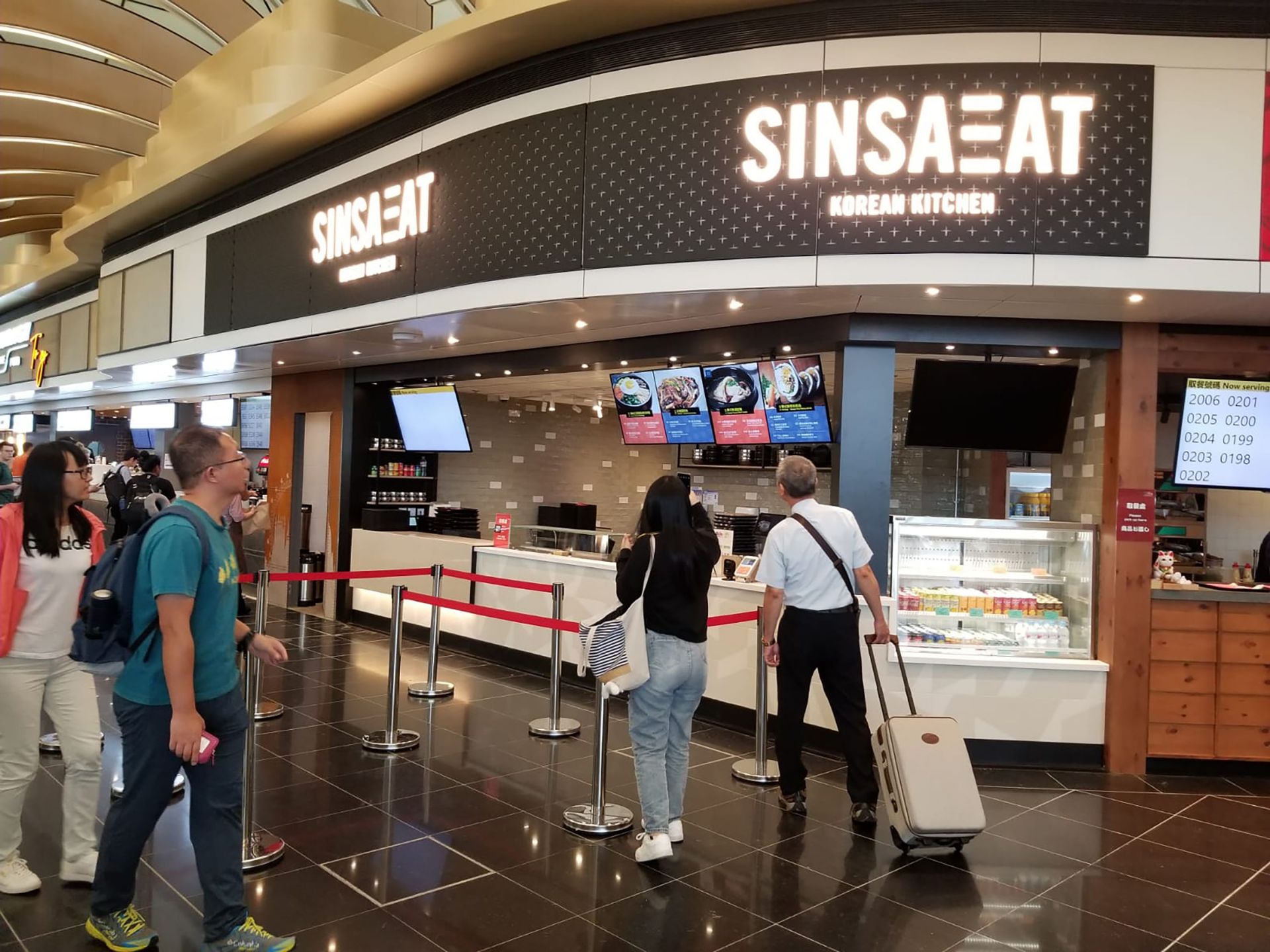 FAB is published monthly by The Moodie Davitt Report (Moodie International Ltd).
© All material is copyright and cannot be reproduced without the permission of the Publisher.

To find out more visit www.moodiedavittreport.com and to subscribe please e-mail sinead@moodiedavittreport.com