---
Behind the design: Food Collective at Brisbane Airport
Queensland, Australia-based

DCB Developments

has partnered with SSP to create a dynamically different type of food hall than anything seen before in Australian travel retail. As the project nears completion, DCB is eyeing international expansion and further development in the airport space.
An innovative new food hall at Brisbane Airport aims to capture the true spirit of the capital of Queensland, drawing inspiration from local outdoor hawker street dining and farmers markets.
Brisbane Airport Corporation last month awarded SSP Group a seven-year contract to open the international food hall – called Food Collective – in a contract estimated to be worth around US$49 million.
Featuring five restaurants – Ze Pickle, Upper West Side Deli, Yo! Sushi, Nippon Ramen and Mi Casa Burritos [see sidebar below] – the food hall is scheduled to open this month in the domestic terminal, located on the second level of the departures zone.
SSP said its main focus will be to create a community feel. The travel restaurateur will install a large centralised seating area and on-site self-order kiosks that allow passengers to order food across all restaurants.
To create that authentic sense of Brisbane, the design, look and feel of Food Collective must be spot-on. That's where building company DCB Developments comes in.
"True spirit of Brisbane": Travellers will find a mix of global and local food & beverage brands at Food Collective, reflecting Brisbane's diverse city culture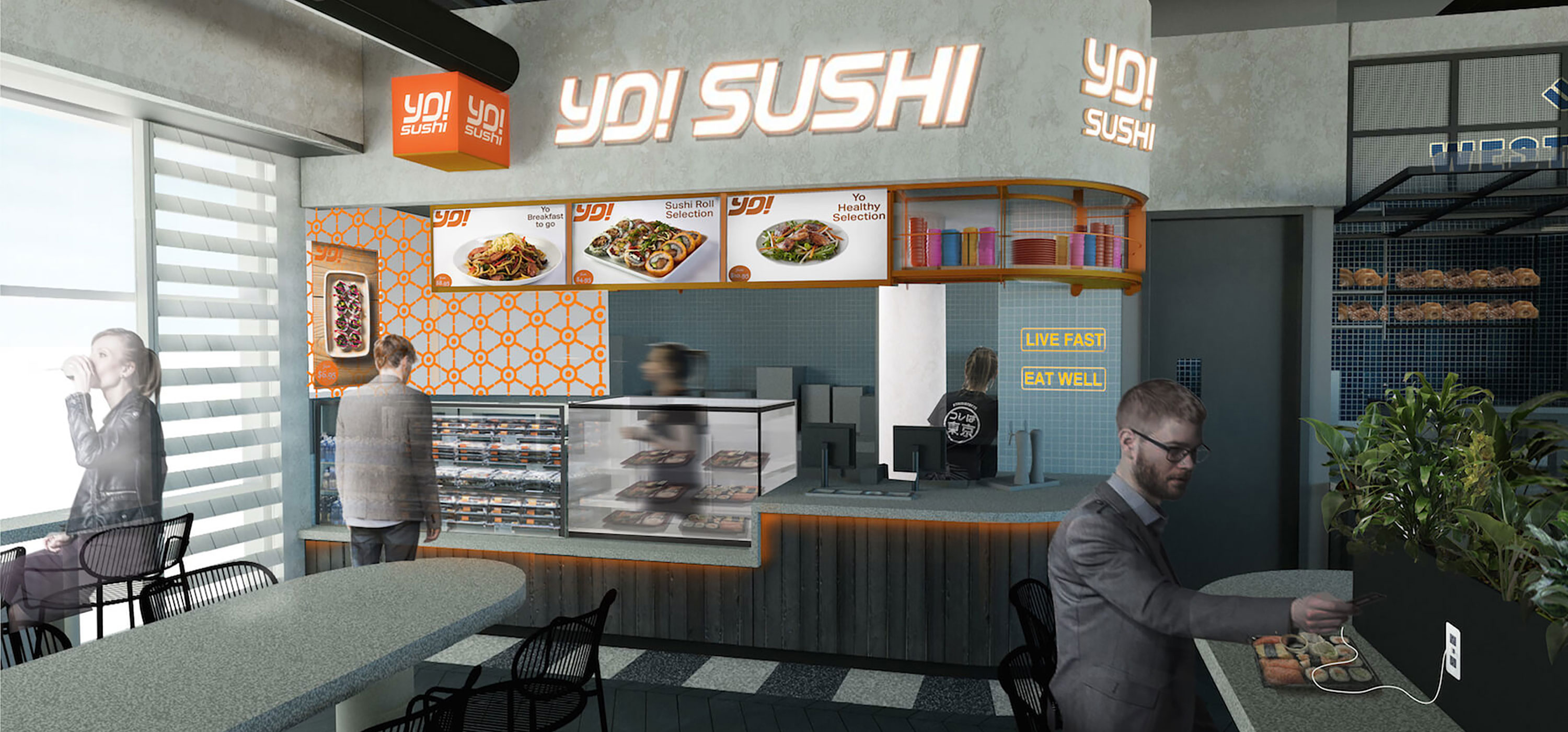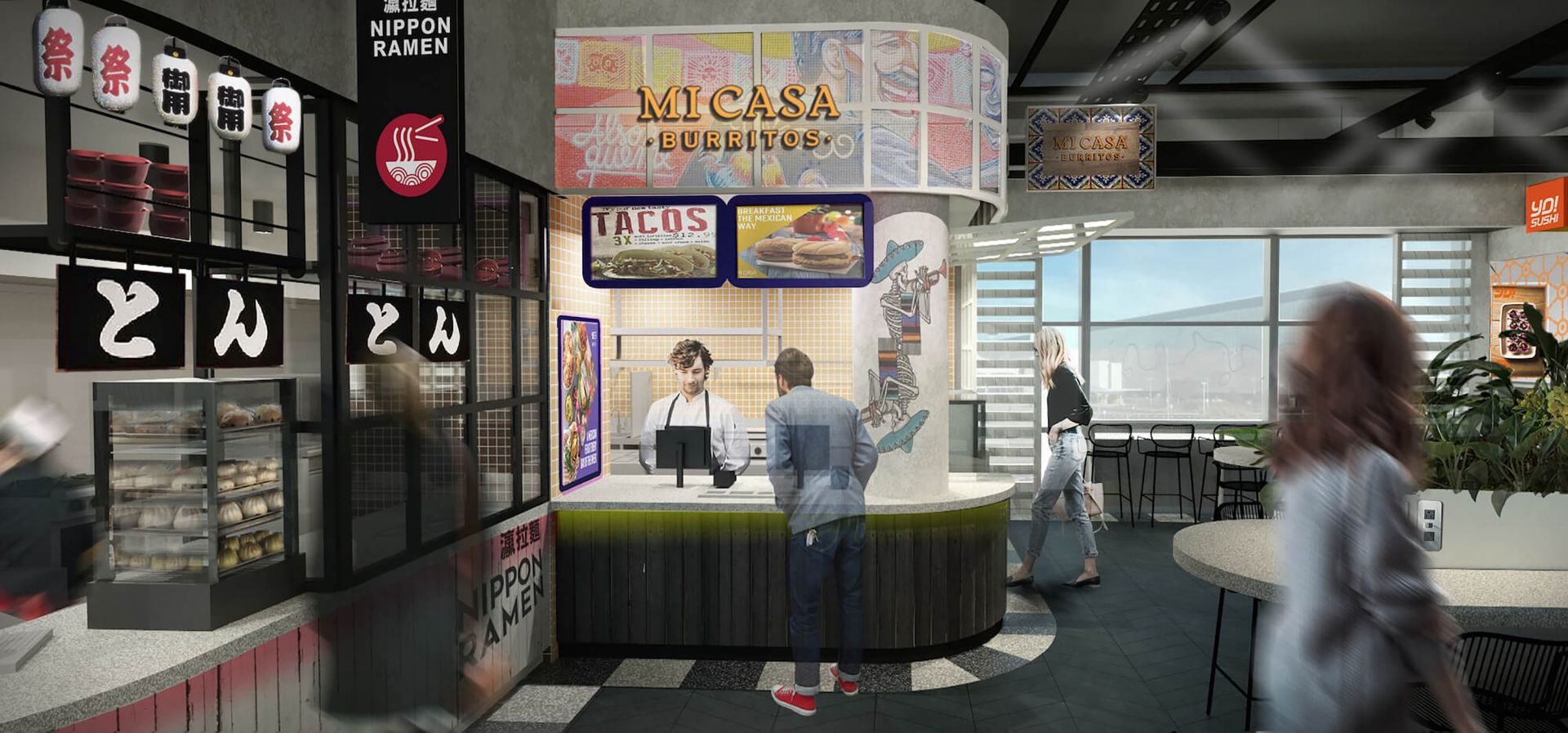 Queensland, Australia-based DCB says it has the food & beverage world "in its blood" – and is hoping to soar to new heights in the airport space after partnering with SSP Australia.
DCB was established in 2008 by founders Dan Cox and Christian Bright, who have more than 50 years of industry experience between them. The company provides an end-to-end design, construction and project management service, including shopfitting, design and construction, food & beverage consultations and interior design, covering all aspects of the construction industry in retail and commercial.
"With many years' experience running our own hospitality joints, we understand exactly how to keep operations smooth – not just how to make the place look pretty," DCB says. "Our spaces are designed to flow perfectly for staff and service, all wrapped in mouth-watering fit outs created with high-quality craftsmanship and finishes."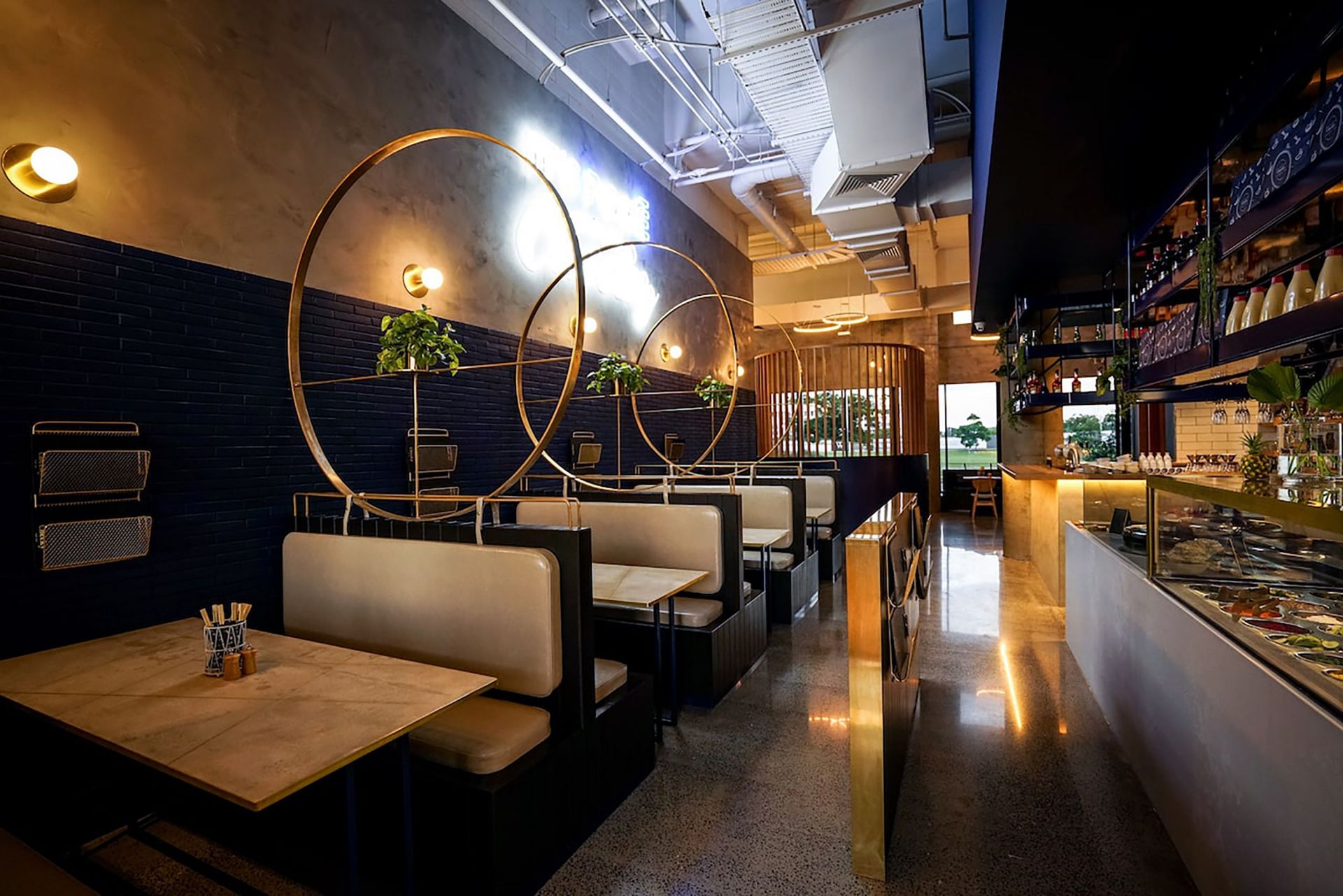 For Cheeky Pokē at Brisbane's bustling riverside suburb of Newstead, DCB Developments created a luxe modern fitout, featuring solid brass fixtures & fittings throughout, a polished render finish to the walls and extensive, built-in custom banquet seating
To create Food Collective, SSP awarded DCB a full design and construct contract, meaning it has been involved in the project right from the development of the concept and will be until the delivery of the vision ready for opening day in November.
DCB describes the food hall as an "adaptable restaurant precinct concept". "This is a new innovation in airport design, having never been done before in the Australian airport landscape," DCB explains. "The inspiration behind Food Collective is the ability to bring the best of the local city to the airport, emulating the local street food scenes in whatever city the airport operates."
For DCB, two key aspects of the Food Collective project are sustainability and the people involved. All partners have agreed on the need to create a strong social and environmental footprint and will ensure all packaging is environmentally-friendly, while all equipment will use the highest energy efficiency ratings. Where possible, the materials used to build the precinct are recycled, DCB says, so protecting the environment.
On the people side, DCB describes its team members as "strong, committed individuals dedicated to excellence in the construction industry. DCB prides itself on having a group of likeminded people wanting to go the next level for every client, every time and never comprising on quality."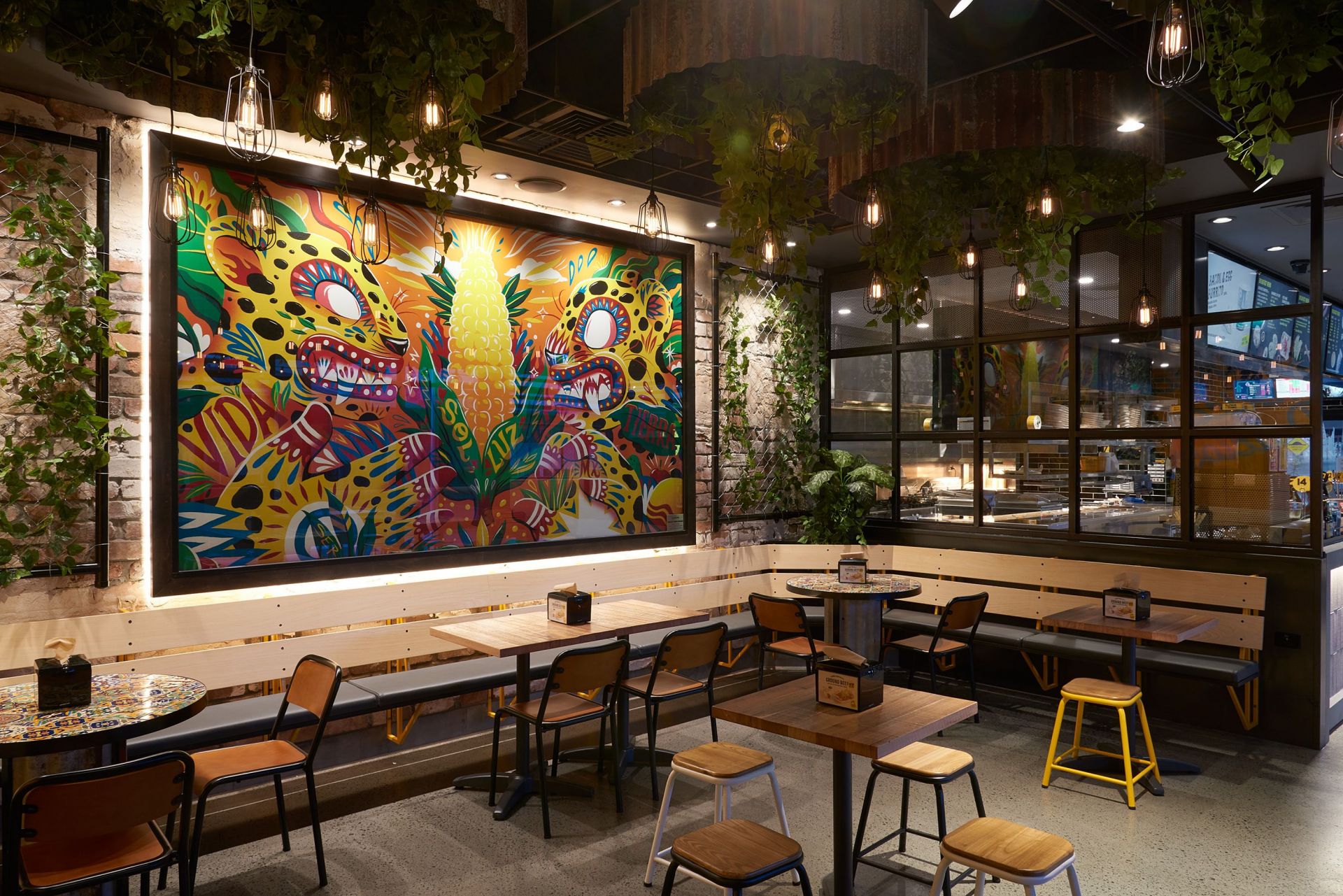 Guzman y Gomez Victoria Point was a flagship DCB project, showcasing an integrated base build and fitout, delivered seamlessly from an existing car park within the Victoria Point Shopping Centre complex through to a fully operating drive through and restaurant
That strength extends to DCB's relationship with SSP Australia, which has been nurtured through key people within its organisation.
"With an ethos that 'you are only as good as your last project', DCB always pushes the quality as if it was its own location," the company explains. "The Food Collective project has been evolving for over a year now and with DCB's involvement alongside SSP from the initial idea, many aspects have been worked on together.
"This includes the original idea and concept, layouts and design, the initial budget, the tender process, consulting works and approvals, and value engineering to suit budget constraints.
"We have also worked on project management, shop fit-out, delivery and maintenance. The full end-to-end experience will be a landmark project to show what long-term trusting relationships can produce."
With the Food Collective project in full swing and nearing completion, DCB is looking at the next phase of its work with SSP – with an eye on international projects. "By building out a superstar team with the same quality ethics and elite customer focus experience, the sky is the limit for international expansion," DCB concludes.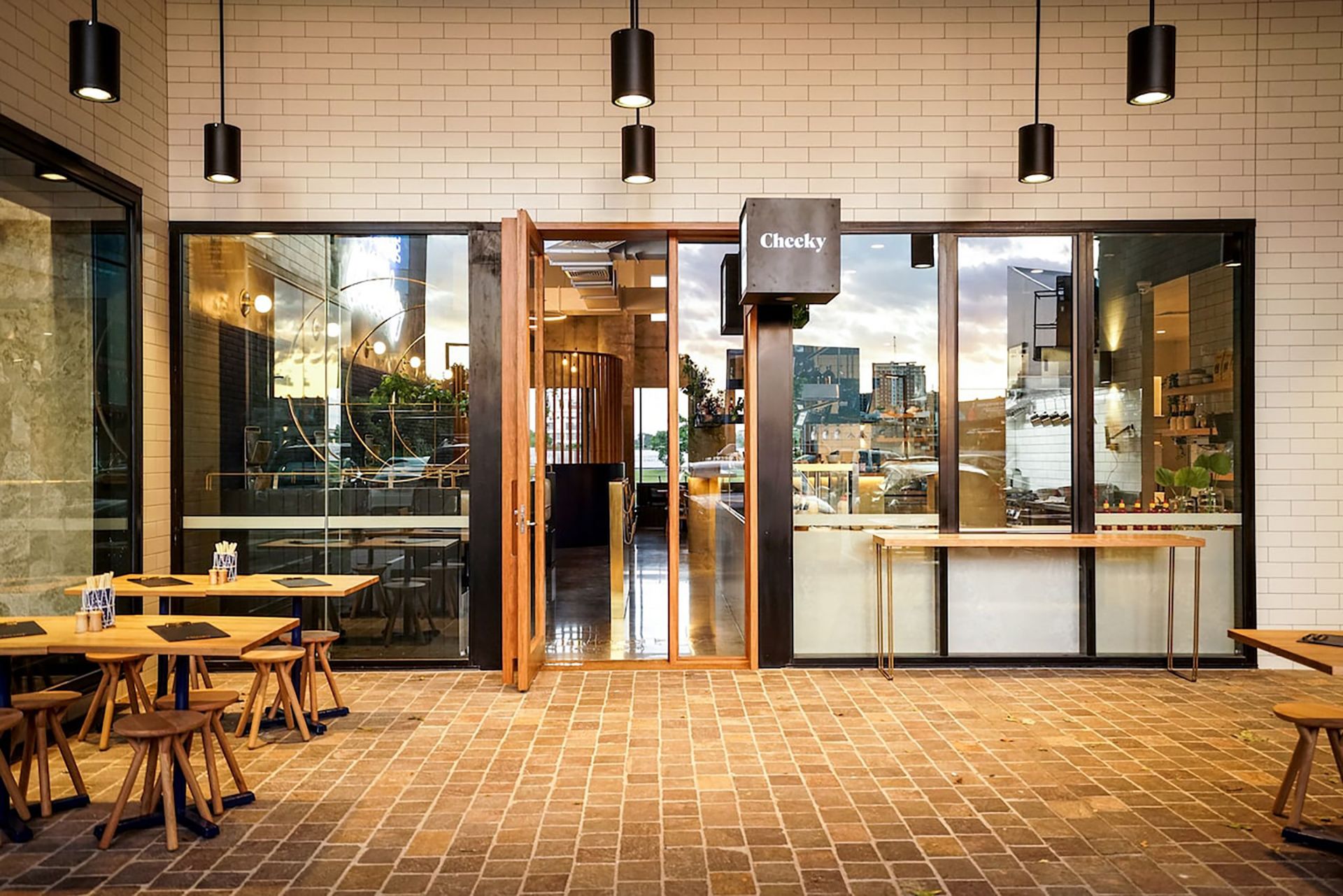 Variety and range
Food Collective at Brisbane Airport features five dynamic restaurants that collectively aim to capture the true multi-faceted foodie spirit of the capital of Queensland. They are:
Ze Pickle – a popular Australian burger bar offering "wholesome, down-to-earth" food and a rotating selection of craft beers.
Upper West Side Deli – a New York-inspired concept offering sandwiches, bagels and other traditional deli lines.
Yo! Sushi – an international brand serving sushi, sashimi and other classic Japanese dishes.
Nippon Ramen – another international brand offering a selection of dumplings and ramen noodles.
Mi Casa Burritos – classic Mexican dishes including burritos, tortillas and tacos feature on an extensive menu.
SSP will rotate in new food & beverage concepts throughout the course of its seven-year contract as global culinary tastes and trends evolve, "ensuring the consumer offer continues to remain relevant".
Food Collective – what they said
"We're proud to be working in co-operation with Brisbane Airport to develop the Food Collective, which is a style of concept that has never been seen before in Australian travel retail.
"With our strong range of local and international brands and cutting-edge design, our intention is to create a welcoming environment that captures the true spirit of Brisbane. This is SSP's largest commercial win in Australia to date and will cement our reputation in this important market."
SSP Asia Pacific CEO Mark Angela
"The upgraded Café Court in the northern end of the terminal forms the centrepiece of Stage 2 of the domestic terminal redevelopment, and SSP's exciting hawker-style dining options will bring a unique point of difference to Brisbane Airport's domestic terminal. Brisbane travellers are already familiar with the fresh and tasty food and excellent service offerings of SSP-managed stores, [with the company having] opened three F&B stores in the domestic terminal in 2016.
"Food Collective will further complement the high-quality in-terminal offerings, while providing travellers with an exciting range of pre-flight dining options that draw inspiration from popular food styles around the world. SSP's concept also beautifully captures elements of the South East Queensland lifestyle and incorporates them into the terminal in ways that haven't been seen before."
Brisbane Airport Corporation Executive General Manager Consumers Martin Ryan

FAB is published monthly by The Moodie Davitt Report (Moodie International Ltd).
© All material is copyright and cannot be reproduced without the permission of the Publisher.

To find out more visit www.moodiedavittreport.com and to subscribe please e-mail sinead@moodiedavittreport.com